I am so hard core this week. Yeah, yeah I know it's only Monday but I am hard core. You see, my training plan starts the week on Sunday.
I ran my recovery four miler yesterday in Orlando while my friends The H's went to church. While they were gone I played with their most adorable pup, Parker the Barker. Parker also wanted to test out my toe socks.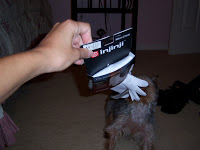 They have been working really well for my long runs thus far. I had to swing by the Track Shack in Orlando to get another pair, hence Parker's playing with them. (Don't worry H's, I totally set him up. He's a very good boy.)
Today I ran the dreaded hills and surprisingly I ran them a bit faster than normal. I got to number four and thought that I may pee my Nike running shorts before I made it to number four (training plan only called for three, go me!). All I kept hearing in my head was that song by Donna Summer, but instead of beep beep, it was toot toot, yeah pee pee! It was very funny to me for some reason. Suffice it to say, I had to skip the post run stretch with the group and drive as quickly as I could to the nearest restroom. Ah, adventures in running. Sorry if I butchered that song for you all for the rest of your lives. Toot toot yeah…..