I have a race report, as promised. Let's start with taking a look at those goals I posted last week.
1. Faster bike split. Mission accomplished! Still so much room to improve but I'll get there.
2. Do not kill myself on the run. Mission sorta accomplished! I kept it as comfortable as I could for the first mile and only picked up the pace as I neared the finish. I definitely got a little spurt of speed when I saw two age groupers in front of me. However, I definitely did not kill myself.
3. HAVE FUN and DO NOT complain after the race about my time. Mission accomplished! I got a PR and smiled a lot out there! Holla!
4. Don't fall off of friend's boat during post race celebration.
Mission accomplished!
Everyone stayed on the boat…while it was moving.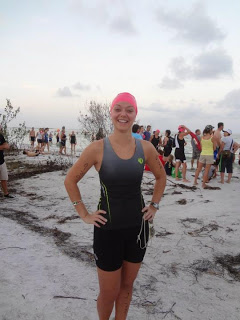 Finally got a pink cap!
Official Report
The Swim (1/4 mile): Since I've been swimming a ton lately, this 1/4 mile seemed insanely short. I was pretty stoked when I looked at the buoys because I just got really excited by how few there were. I love swimming in a pool. Open water, not as much. However, this was a perfect opportunity for me to work on sighting and I'm quite happy with how it went. I didn't stop to breaststroke once, which I have been known to do, and in not doing that I definitely had a better swim time.
Time: 6:10 (6th in AG)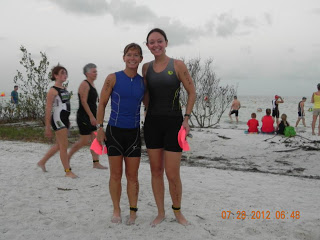 Little J and Me. She came in 2nd in her AG! She's my hero.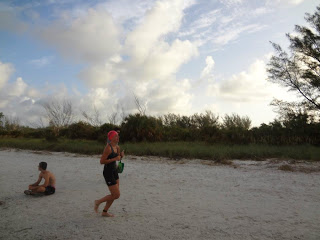 Coming out of the swim. I pushed that kid down. Just kidding.
T1: 3:35. What the hell was I doing in T1? Making sandwiches? Sheesh. Definitely room to improve here.
The Bike (10 miles+/-): My greatest area to improve and I'm happy with how I did. I don't think I improved a lot over last year but I felt better. I didn't feel like I was dying and tried my best to keep my cadence up. I got passed here as per usual but not by anyone with a basket on the front of their bike at least. I don't have any bike photos yet but I'm pretty sure I made awesome faces in most of the professional ones.
Time: 29:56 (30th in AG. Womp womp.)
T2: 2:04. Meh. Apparently these sandwiches were PB & J versus the full on Cubans I was making in T1. Heh.
The Run (5K): The run was going to be iffy for this race. I had decided that morning that I would at least aim for negative splits. This way I was assured to start off with a comfortable-don't-re-injure-yourself-pace. This plan worked very well and only when I saw two age groupers near the end did I push it a little to get past them. I also felt good on the run. There is certainly something to be said for easing into it.
Time: 26:24 (9th in AG. Hooray!)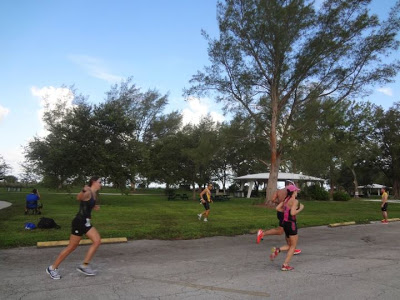 (Far left is me.) I'm about to chick that dude in the orange shoes. Oh and that guy cutting the course.
Total Time: 1:08:12 (14th in AG)
Final Thoughts: I'm super happy with my two minute PR! I got faster this year and it appears so did all my age group friends. My leg feels tight but not painful and didn't bother me once during the race. It's still obvious I need lots of bike time and practice in those transitions. All things considered I'm so happy to be in the game again and can't wait for Augusta! Bring it.