Happy tri-versary to me!
Top Gun Sprint Triathlon
is always my anniversary into the madcap world of triathlon. This is my fifth year competing and this race holds a special place in my heart. Every year I love racing at Ft. De Soto and seeing so many friends. I also love adding my times to my Top Gun annual race spreadsheet. Nerd alert!
Going into Saturday's race I really wanted to PR and run low to sub eight minute miles. I also wanted a faster bike split because in my brain I thought since I've been cycling so much it would be faster for sure, right? Eh…..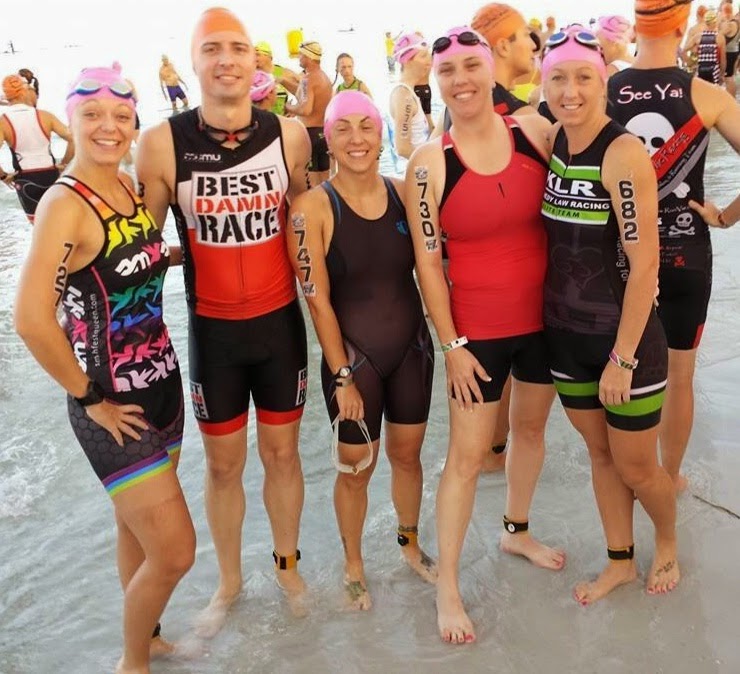 Pre race with the S.O. and some pink cap buddies.
The Swim
Upon arriving at the race I had a couple of thoughts on my mind about the swim. First off, my wave of pink capped women was ages 20-39. Holy moly, that's a lot of ladies starting a swim together – for only 440 yards. Second, transition had been moved farther away due to the construction of the parking lot it was normally held in. It was going to be a long run to T1.
I lined up in the front and figured if any faster ladies were behind me, they'd just have to swim over me cause there was no way I was getting caught in the back this year.
As the horn sounded, we took off en masse and it was a cluster. There were arms, legs, feet, and bodies everywhere. It was the most chaotic swim start I've ever had to deal with. I usually tell people that the swim isn't as bad as they make it out to be. Well, this one was. I fought to find clean water and I don't think I hit any until I was half way into the swim. As soon as I got some breathing room, I saw gold caps from the wave in front of us. I had to weave around them and one gentleman in particular was breast stroking and I got his toenail right to my face. Ew. That's a first. Fortunately, there wasn't a scrape or anything, it just made me laugh.
I didn't PR the swim, but it was a solid effort and I'm happy with where I got out of the water amongst my age group. Top ten is pretty standard for me at this point.
Swim Time: 8:39 (7/53)
T1
As I mentioned earlier, the run to our bikes was longer than previous years so I really tried to hustle. I PR'd this somehow over last year so I assume that means I only made mini-sandwiches. Yay!
T1 Time: 3:47
The Bike
I was pumping hard when I first got going on the bike and I think we had a tailwind heading toward the turn around. This bike course is roughly 9.6 miles, even though they say it's a "ten mile" bike ride. It's a long, flat out and back with a large U-turn.
My legs were burning the entire ride. I tried to keep it above 19 and felt that I should be going faster but my legs were not having it. Not one tiny bit. I am going to assume that since I've been riding long and slower I just wasn't warmed up. Who knows really. I passed a lot of people but got passed by at least three women in my age group. I was only 37 seconds slower than my time last year so that's not too bad.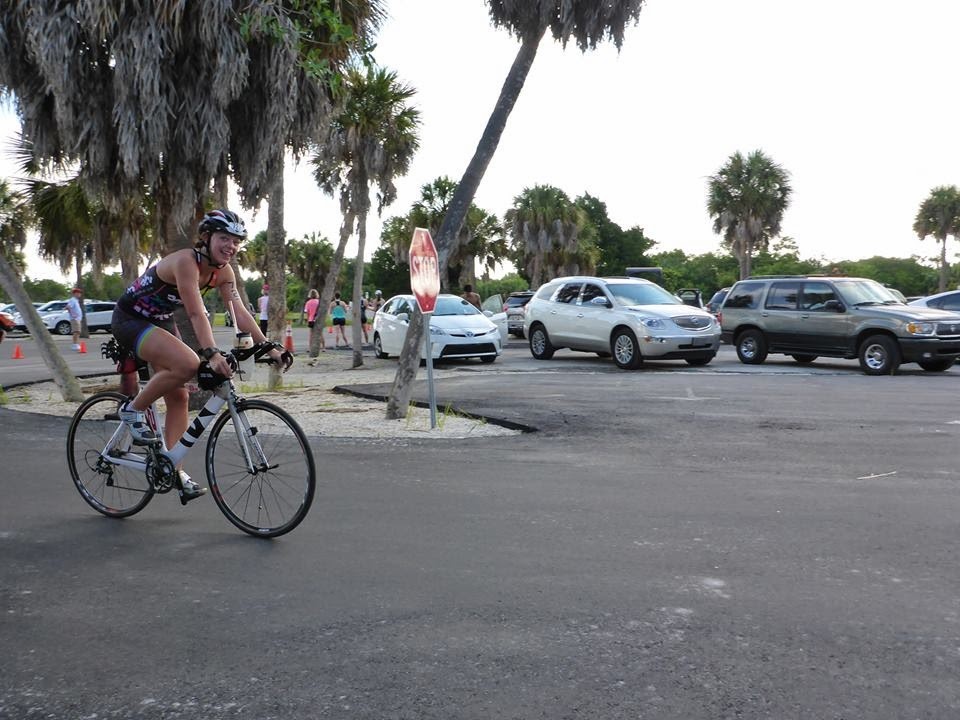 Coming into T2.
Bike Time: 28:38 (17/53)
9.6 miles at 20.1 MPH
T2
I'm really happy with this time. I used my running shoes with regular laces versus the fast laces but otherwise I think I did good (for me) hustling out of T2.
T2 Time: 1:36
The Run
For some reason I had big plans for this run. I really wanted to PR this course and run sub 8's or close to. Unfortunately, the course was long so while it was a pace PR it wasn't a course PR. I had messed up my Garmin so I had to re-set it as I ran along out of transition. I started really feeling the warmth of the day around the second mile. Fortunately, it was overcast so that helped a ton! I was hoping I could catch some more women from my age group on the run, but man these ladies are fast! I only passed one woman from my age group and that was around mile two.
As I was running toward the finish, I heard people cheering for a friend named Jessica in my age group who was behind me. I sprinted that final stretch because I had no clue how close she was behind me. This woman is so fast, I was being cautious by killing myself. Haha. (She beat my run time by three minutes!) It was a good reminder to me that I need to kick it in at the end regardless, cause man she was close!
Run Time: 26:19 (12/53)
3.26 miles at 8:04 per mile
Overall Time: 1:08:56
11/53 in Age Group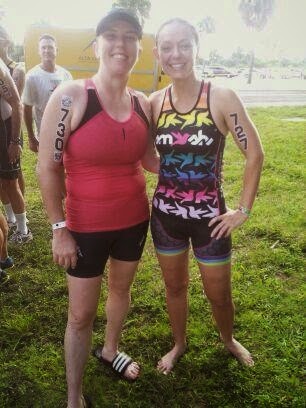 First tri for Cheryl! So proud of her!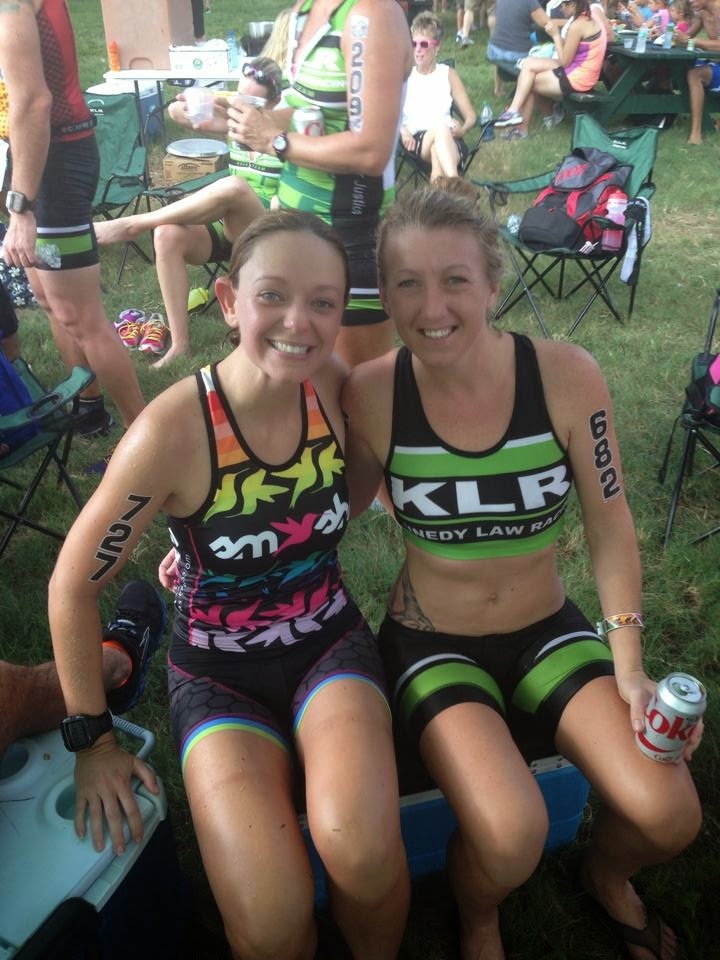 Me & Keara, speedy girl got 7th in our AG!
Overall Thoughts and spreadsheet!
I have mixed feelings about Saturday. On the one hand, I'm happy I raced almost identically to last year with a run PR. On the other hand, I sorta feel like I should have been faster and really wanted to go top ten. On the third hand (uh, what?), I know that I'm tired from all of the extra training I've been doing and this more than likely played a part in my results. I did have a fantastic time post race with all my friends and I will be back next year for that top ten spot! I'm coming for it Top Gun!

I should make 1:08 my lucky number.
Thanks for reading! Hope you all hade great weekends!