Finally, after a handful of lackluster 5K's, I ran one that I wanted to write about! Every year I run the Tampa Bay Times Turkey Trot that's held in Clearwater. It's basically right up the road from me so it's perfect. I can get up early, go run, and get home in plenty of time for a Thanksgiving feast. Or in the case for this year, head to Orlando to feast and then watch my UCF Knights get demolished. Again. Oof, it's been a bad season.
Anywho, I got to the race start line with lots of time for a mile warm up and a trip to the bathroom. As I ran my warm up I thought about way back when I first began running and always wondered who these weirdos were that ran before they had to run. I so get it now! I'm barely warmed up with a mile these days. Ha!
I lined up toward the front because there's no chip timing for this race and it gets very crowded. Plus, the top 125 male and female finishers get the famous Turkey Trot mug and by using just a "who gets to the finish line first" card system, it's best to play it safe and start front and center.
This course is so well known to me that I was prepared to run the first mile a tad fast as it starts with a fairly decent downhill. But, as we got going it was super congested and I hit some traffic. It's probably for the best that it made me hold back a bit, but I didn't love all the bobbing and weaving. It was at about this point that
Jesica
ran by. I tried to talk but was picking up speed so I managed a, "You look cute!" to which her husband said, "Thanks!" It was pretty funny.
Mile 1: 7:18
I settled in to mile two and looked forward to the neighborhood portion of this race. I watched Jesica's back for the majority of this mile and got myself prepared for the hill climb that I knew was coming.
Mile 2: 7:22
As I began the climb I realize Jesica was nowhere in sight and I was on the struggle bus. I tried to keep up my pace but I had started that sad slowing down that can only mean one thing: major wind sucking. I saw an ugly number eight on my Garmin and thought, "Oh hell no." I sped back up and tried to get back on pace toward the finish. It was toward the end where I saw Coach EK who yelled, "EMBRACE THE SUCK!" I needed that. Thanks EK!
I turned the corner and saw the high school stadium and track where the race finishes and tried not to let anyone pass me. As I came down toward the finish line clock it showed a 22:40 and I got a little excited until I realized that the clock was wrong. Bummer there, but I am still happy with my time and how I raced.
Mile 3: 7:47
(Last .13: 7:26 pace)
Finish time: 23:26 (Going by my Garmin because of non-chip timing. I have a distance of 3.13)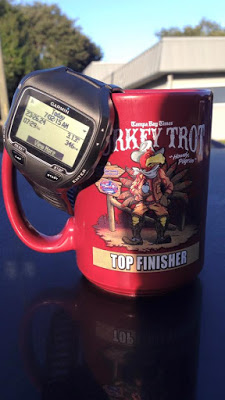 Got my mug!
I love love love the Turket Trot because I always get to see so many friends! The S.O. didn't race but he rode his bike out to watch the 10K which starts a lot later.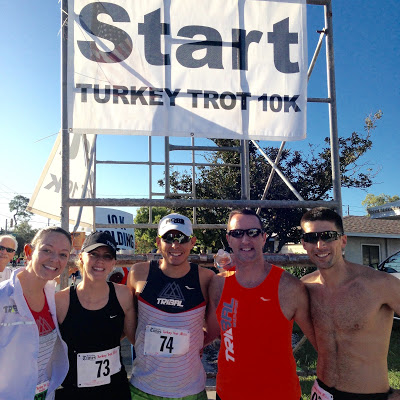 Pre 10K racing friends (L to R: Me, Karen, Coach Nick, Kevin, Rob)
The S.O., Me, and Jeremy
I hope you all had awesome Thanksgivings! This Monday came too soon but I'm looking forward to a fantastic December. Stay tuned for my November stats tomorrow.