I returned from my first vacation of the spring/summer on Sunday and would like to report that I had an awesome time. I pretty much ate, drank, and snorkeled my way through Key Largo. If you have never been, I highly recommend it. Keep in mind, that while it is a lovely place, it's not a beach-goers retreat because there technically is no beach. It's all docks and boats and snorkeling and SCUBA diving. Yeah, it pretty much rules.
We travelled down there on Thursday morning and it took about 5 and a half hours. The drive down was fun and me and Fist Deep (member her from my first Hash experience?) carpooled with my new friend from work, CMoney. (I'm trying out nicknames for her right now, so I'll start with that one.)
The trip was called the Turn of the Decade Trip since our lovely V turned 50 and I turned 30. Get it? Turn of the Decade? Anyway, the dive shop made a sign especially for us. How cute is that? See below.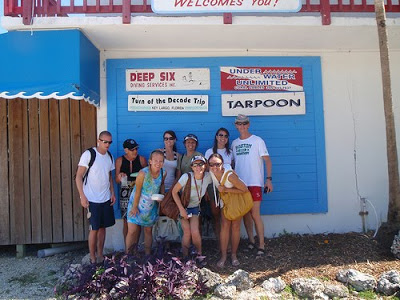 This was the first day out at the dive shop so a few peeps are missing, but you get the point. If you'll notice how happy Strawberry E is (she's in the front wearing blue), we may need to change her nickname to SCUBA E as we're pretty sure she's found a new hobby. I myself, am thinking about it. Snorkeling is great, but SCUBA seems to be where it's at.
I got back Sunday at around 6ish and pretty much felt like I was still on a boat until today. Why is my computer swaying? Ha ha. Fun times. Since I didn't run AT ALL from Thursday to Sunday, a nice 4 miler was in order yesterday morning. I ran on the treadmill and felt pretty darn good. I plan on running tonight after work and should be back in the full swing of things soon.
If things get too hectic at the office, I'll just pull up the photo below and remember the amazing trip I had this weekend. I hope you all had great weekends. I've got lots of your blogs to catch up on!