Well hello friends. I hope you all great weekends! I am sure you will shocked to hear that I worked out. A lot. Did you know that triathlon clothing is trying to kill me?
Let me back up a bit, before I get into that story.
Friday night was a girl's night out that took place at a tri shop and ended by 8:30 pm. My kind of Friday! We got to chat, eat some snacks, drink some wine, and check out all the goodies
Top Gun Triathlon
store has to offer. It was a super fun night!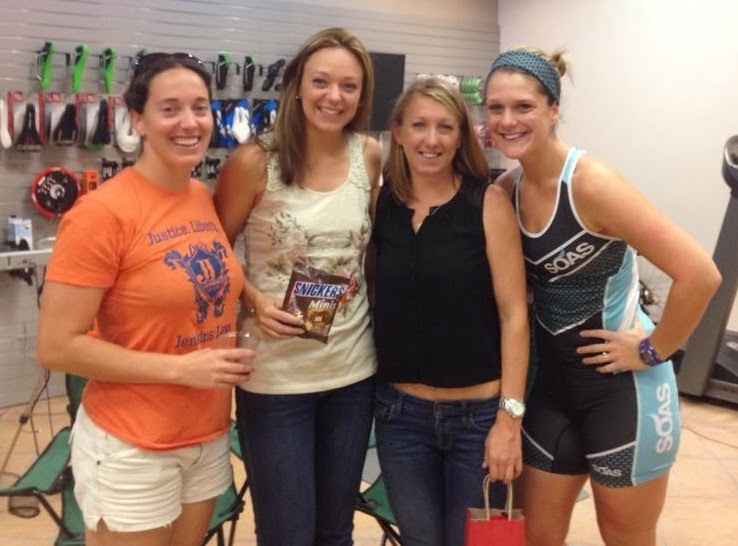 Thanks for hosting us Keara!
Saturday morning was a glorious six mile run, since I did my long run during the week, followed by a mile and a half open water swim. Both the swim and run felt great and it was so nice to get home before noon. The S.O. and I went to see the new monkey movie (Planet of the Apes something or other) and it was surprisingly good. Who'd have known?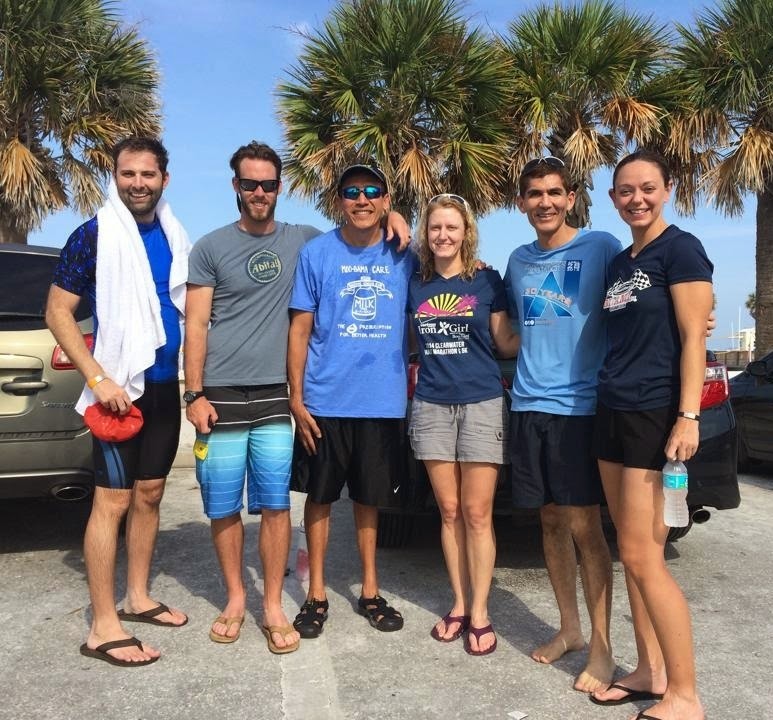 Saturday's run and swim group.
On Sunday, I was ready to tackle my first 100 miler of my training plan. I had hit 90 miles on a ride last month so I knew I could do it, but I was still pretty nervous on Sunday morning. I planned my nutrition out so that I ate as much as I will eat during the ironman. My coach and I estimated the standard 250 calories per hour. I had a combo of gels, blocks, bars, and liquid calories. My friend Hugo was in for the full 100 with me and we had Tori and Patrick for 75 of it, plus quite a few others for about 30-50 based on where they headed back on the trail.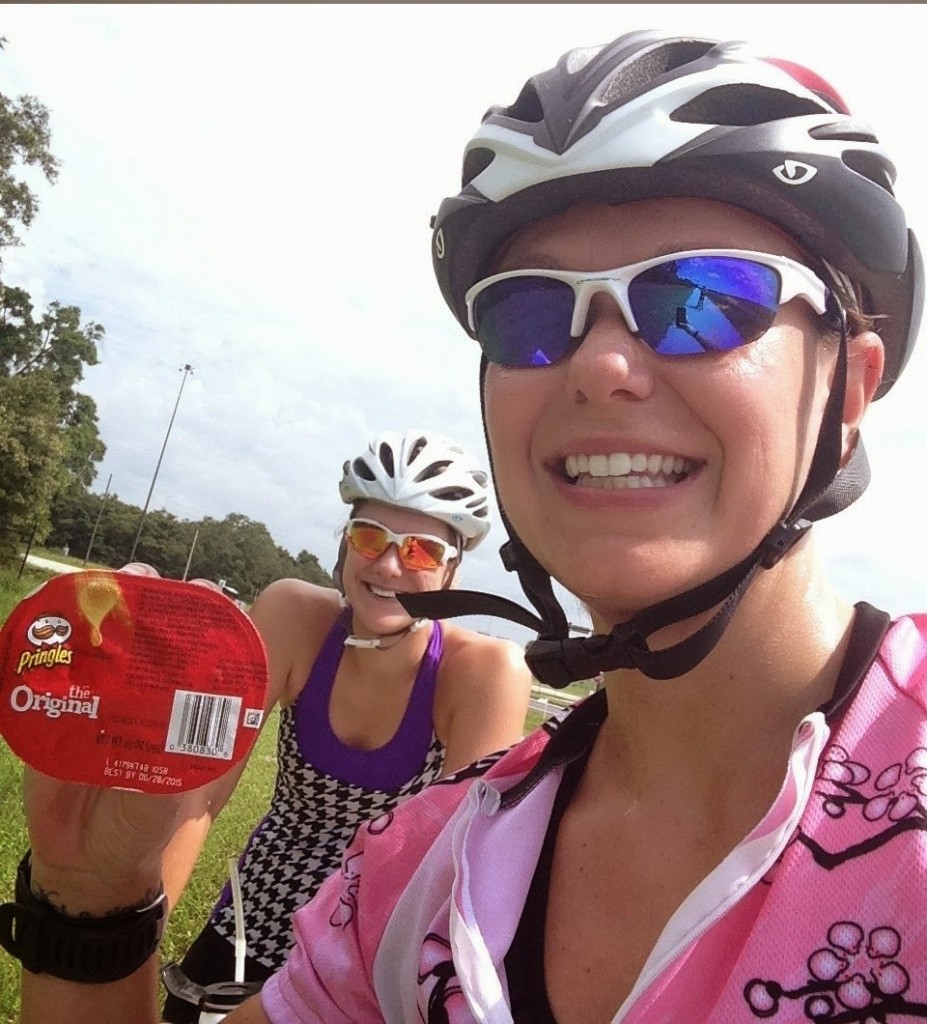 Pringles made an awesome late-ride treat!
I wound up having a really great century ride. I ate all my calories and didn't have any tummy issues. We had to stop a few times due to a flat tire and refilling water bottles and whatnot but I am happy to report that this ride felt good for the duration. Sure I was ready to be done toward the end but my rear end and legs seemed to hold up fine. The only issue was (see first paragraph) that my bike shorts gave me a rash along the rubber around the bottom of the leg. You know the part that keeps them from riding up?
After we finished riding, I told Hugo I thought I had some 3rd degree burns or something and he let me know that it was a rash from the bike shorts and he gets it too. I've worn these shorts countless times and this is the first time this has ever happened with them. However, this is the second skin rash I've gotten from triathlon clothing. I got a really bad rash from a swimsuit a few months ago. Oy. Triathlon clothing is trying to kill me.
Huge thanks to Hugo for sticking with me for the whole 100! He helped add on the 10 miles I needed when I wasn't quite sure how to get those in on the trail. It worked out perfectly and I got to see a whole new section I've never ridden before. (And thanks to Team Kool-Aid and the A-Train for joining and coordinating!)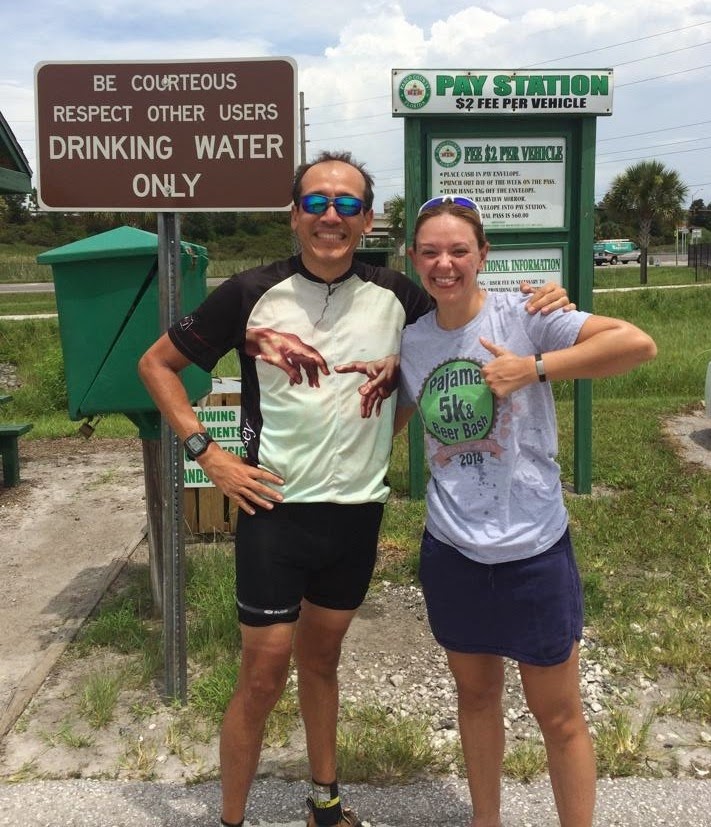 Post ride delirium with Hugo.
I'm feeling really happy about my training right now. I have a sprint tri on Saturday so my long run may get a bit stunted but I'm ok with that for this week. Saturday's race is my yearly sprint tri that marks my tri-versary. I can't believe this will be my 5th year of triathlon!
I have a question for you ironman finishers about race day clothing. For those of you who completed the 140.6 in the same outfit, how did it go? Where did you hold all of your nutrition? I'm still debating the clothing change thing. I want to be comfortable and I don't really care about time loss in transitions, but the girly-girl in me wants to wear my cute kit. What say you all?
Happy Monday!