Happy Monday! I hope you all had great weekends. Mine was pretty awesome. I got in a nice 13 mile run with a new running group in my new 'hood. Yes, I moved again, in case you missed that.
I moved in with the S.O. and needed a group to run with. Fortunately, I found a group not too far from where we live and joined them at 6:00 AM on Saturday. It's always interesting joining a new group. It reminds me of the first day of school. You hope someone will sit by you at lunch run your pace and you hope there are no mean girls plenty of bathroom stops. Fortunately, this was a really nice group and while they are currently a tad faster than me, I found myself keeping up, even with the THREE bridges we ran. This group will certainly make me stronger as every weekend features the damn lovely THREE bridges. Oof.
I had planned on doing ten miles, but since the route was 13, I figured what the hell. It was not the smartest decision I've ever made because I was pretty wiped by mile ten, but I hung on and am happy I did. And in case you were wondering, they did in fact, have plenty of water and potty stops. Score!
Saturday night was spent at the University of Tampa track where my track coach hosted a 5K. I opted to volunteer and cheer folks on. I am very glad I did because it poured the entire night. Kudos to those who raced!
Since Sunday called for crosstraining, we met up with blogger buddy
Meghan
and a few other friends for a thirty-three mile bike ride. I had been wanting to ride with Meghan for a while so it was the perfect opportunity for us to catch up and enjoy a cool and overcast day. Meghan is a strong cyclist! She rode the distance
without clips
AND we kept a quick pace. This girl is gonna be a killer triathlete!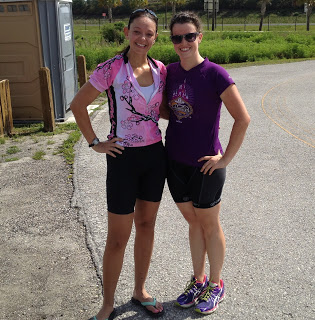 I heart blogging friends.
How were your weekends? Did you race? How did you do?