Happy happy Monday! I had an awesome weekend and rode my face off. I covered 70 miles in two days and while that isn't a lot for some of you, it's a big increase in back-to-back mileage for me.
On Friday I had an MRI on this hamstring. Unfortunately, I've yet to hear back on the results. I hate waiting, but not much else I can do. That night I enjoyed a fun girl's night in with my favorite runner girls. We lamented running injuries and ate pizza and had a blast. I love those girls.
After a short night's sleep I got up nice and early on Saturday to meet some friends for a 42 mile ride. I didn't realize no other ladies would be showing up so I wound up riding with four dudes. Fortunately they took it easy on me the first 21 miles but on the turn around back, specifically the last 10 miles, we hauled. I was thrilled that I could hang and even took a turn pulling. It hurt like a mother and I didn't pull for too long but at least I'm getting stronger. It meant a lot to me that they all gave me compliments on riding so strong. I don't think they were just being nice either. Ha!
Smart boys wearing shades. I look like PopEye.
I wanted to go watch a "beer mile" race on Saturday night but I was so tired from riding and then shopping that afternoon, I could barely keep my eyes open. By 4 PM I wasn't feeling too hot and decided to stay in. I wound up having a late dinner at my sister's after a very long nap.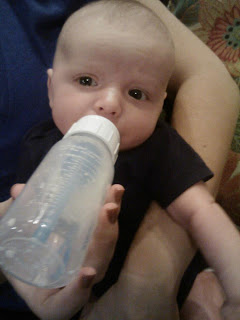 Had to snuggle my nephew McBaby.
On Sunday, again nice and early, I headed to the hills of San Antonio, FL, for another ride. My legs weren't too sore from Saturday but things would change once we got rolling. And of course, again, I was the only lady. Crap.
The good news is that the three dudes I rode with, as always, were super helpful and I continue to learn and grow on the bike. The hills in San Antonio are no joke and I was feeling the burn pretty good at mile 15 or so. They asked if I wanted to do the additional 7 miles and I politely declined. I was getting up the hills at about 8 MPH and I knew that 30 miles would be my limit for the day. Don't get me wrong, I thoroughly enjoyed the ride, I just know when I'm tired and trust me, my legs were talking to me.
I followed up my ride on Sunday with a visit to see my granny and an evening movie. I went to see
Moonrise Kingdom
and I highly recommend it. It's quirky and cute and despite some of the oddness, it's really uplifting.
On a final note, I'm headed to DC tomorrow to celebrate the 4th of July with none other than
this girl right here
. I'm so happy to see her and the pups. And Graham is home now and doing much, much better. Thanks to those who sent kind words and/or donations. You guys are the best!
As soon as I get news on this MRI I'll post to keep you all up to date on my never ending injury. At least I got to ride this weekend, but I'm ready to run.
How were your weekends? Plans for the 4th?