Happy Monday kids! I'm a tad sore from my 15 miler yesterday but no worse for the wear. I got up super early this AM to get in my swim and had enough time after to type up this here blog post. How about a weekend recap?
Friday
The S.O. and I headed to
Howl-O-Scream at Busch Gardens
, courtesy of
Yelp
and had a blast! Free parking, free drinks, and free entry into The Experiment, what more could we ask for? The Experiment was indeed INSANE and I'd like to give you more details on it but I don't want to give any of the cool stuff away. No spoilers here! I will say it's worth paying for if you go AND I didn't make it through the entire experiment and am a big wuss. The S.O. did pass all of the experiments and LOVED it. I rode the Cheetah Hunt coaster and it was completely awesome at night. I heart roller coasters.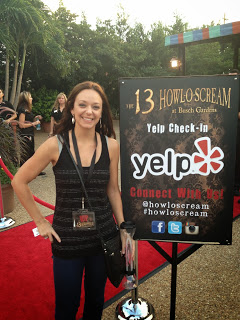 Thanks Yelp & Busch Gardens!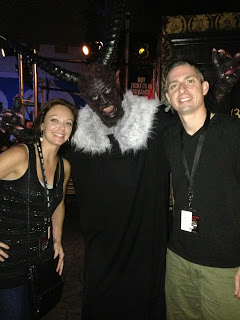 Just some random dude we picked up.
The only downside to the entire evening was trying to find a gluten free meal. More on that tomorrow…
Saturday
Since we were out way past our bedtime, we slept in a bit and had some errands to run. I headed to meet
Meghan
for a swim at her lovely outdoor pool. We got in a very solid workout. Meghan really pushes me. She's going to be a great training partner for Chattanooga IM!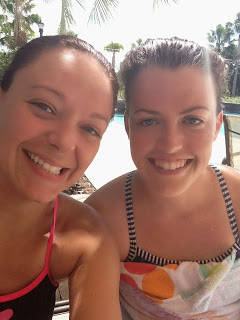 Post swim smiles.
After the swim I watched a bit of college football with my UCF Knights playing very well against South Carolina. Then there was an early dinner and bedtime. We had long runs to get in on Sunday morning.
Sunday
On Sunday at 6 AM, I met up with a friend named Cat. She's a faster runner and I figured it'd help to have her pull me along. She wanted to run the bridges so I happily obliged. Jacksonville is a very flat marathon but I figure those bridges can't hurt, right?
As we got started on our run I was reminded how nice it is to run with a new friend. We had a lot to talk about and the miles went by super quick. Cat wanted to make sure I was running the pace I wanted to. I wanted to stay around 9:15-9:30 but I realized as we ran along that I didn't really care that much. I just wanted to feel better at the end and get time on my feet.
Now, these aren't small bridges. They suck. But the views are gorgeous. As we got back to the cars we had to add on about three miles so we decided on an out and back, away from the bridge we were parked next to. We had picked up the pace at this point and I was getting hot. Sadly, we got back to the car with a quarter mile to go. Cat, being the BAMF that she is, said, "Let's just run up the bridge." I said, "Can we get water first?"
So, with a quarter mile to go we stopped for water. Who does that? I guess the girl who knows she has to run back up a bridge to finish her 15 mile run does. Cat humored me and we began our final ascent up the Clearwater bridge. We hit 15 miles a little more than halfway up. Our pace wound up being 9:38/mile and I am A-OK with that.
After the run I hit up the quickie mart for a much needed chocolate milk and Gatorade. Mmmm sugar! Heh. I then went home to a lovely ice bath courtesy of the S.O.
The rest of Sunday was spent relaxing. It was a lovely weekend.
Now, how about that give away?
I've got TWO free tickets to the Florida Blue Blues and Music Festival on Saturday, October 26, 2013, at the Sarasota Fairgrounds. (Sorry non-Florida readers. But, you could always make it a weekend away right? Isn't it cold in some places right now? It ain't cold here.)
To enter please do the following:
1. Tell me how what you ran, biked, or swam this weekend in the comments. (1 entry)
2. Shoot me a tweet (@discomBoBruns) that says "I wanna win Blues Fest tickets!" (1 entry)
3. Share this post on your blog. (1 entry)
I'll pick the winner on Friday.
Have a great day! And congrats to those who raced this weekend!