Happy Monday! I know, let's all get more coffee and hunker down to get through the week. We can do it!
I hope you all had great weekends. There were some big races going on and I have to give a very special shout out to my friend
Gator Mike
(
he paced me to my 1/2 marathon PR
) for running the Richmond Marathon in 2:57:44! He worked his butt off and logged more miles than I've ever seen. (155 days in a row!) CONGRATULATIONS MIKE! Now, go take a nap. For a week.
My weekend was awesome and just as expected The Book of Mormon was hilarious. It's rude, crude, and completely devoid of any sensitivity but what can you expect from the creators of South Park? The S.O. and I had a great date night and stayed out way past our bedtime.
On Saturday AM I had every intention of swimming. I had a solid hour to swim before my hair appointment. I got up and headed to the city pool at 8 AM. I got there and saw a big, huge POOL IS CLOSED sign. They were having a massive kids swim meet. Well, crap. I decided I'd head to a gym and "test" out their pool. And guess what?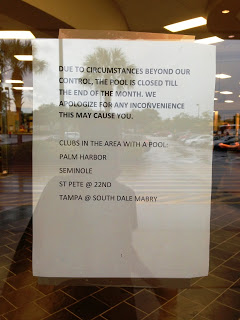 I just had to laugh. So with no opens pools within my allotted swimming time I had yet another rest day. I was really good about icing and stretching all day long because I knew my 18 miler on Sunday was going to be tough. My heels were feeling ok but any twinge made me nervous.
I decided to meet up with my girl Cat and her friend Indy on Sunday to run the bridge loop. They were looking to run 13-14, so I ran five solo before they arrived. My first five were uneventful and I was happy to see them and we got started.
The temps are back to being muggy and warm in Florida and this bridge loop ain't no joke. We don't have hills so we run bridges. I think the bridges can be tougher than hills because there's no gentle rolling, just straight up and straight down. We get a solid three big bridges and a pretty nice hill on this route. Even though my marathon is flat, I figured a bridge run couldn't hurt and I was smart about running them easy so as to not further stress my calves, Achilles, and heels.
We hit the cars at my mile 17.38 and had to run a bit past them to get to my 18. I'm not sure where Cat and Indy were on their mileage but they seemed happy to stop when I did. Indy is from Hungary and in his accent, called this run, "an asskicker." He was right because as soon as we hit 18 I was done! I made sure to stretch a lot post run. We averaged 9:06 and I'm going on record as that being my last long bridge run before Jacksonville.
I'm happy to report that my heels are feeling much better and I'm going to continue icing and stretching. I have a massage scheduled for Wednesday and I'm determined to stay healthy. While I do want to have an awesome time at Jacksonville, my eyes are on those upcoming triathlons and I want to get to them injury free.
Congrats to the Vegas and Richmond marathoners! Congrats to the Ironman Arizona triathletes! And congrats to anyone else who had big (or small) races that I missed!