Guess who I got to see on Saturday!?!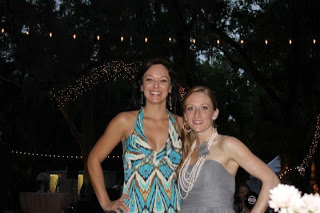 We give good arm.
Yes, that's right, my beloved boo, the
Redhead
from Michigan. Since her friends have become my friends we got to spend some time together at our lovely Riki's wedding. Red was the MOH (maid of honor) and I was thrilled to be a guest at such a gorgeous wedding. I admit that I was concerned about the venue since it was outdoors and the weather was questionable, but come go time, it turned out to be a beautiful night.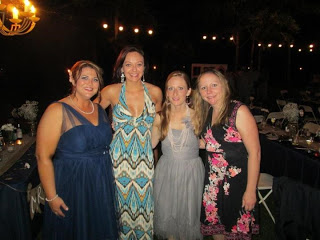 Lovely ladies.
In addition to attending a super fun wedding this weekend, I ran my longest run in a long time on Saturday. I had wanted to run ten miles but my buddy
Lee
and I were back to our cars at nine and a half miles and so I declared it "Good enough for me." The good news is that while I was tired at the end, I felt good and we hit some negative splits. Go us!
My running is still a work in progress as some days the low nine's feel good and other days the low nine's feel extremely fast. I suppose it just goes with the territory of rebounding from a long break but I'm sticking to it. I ran five miles last night with the S.O. and his 17-year-old sister and let me tell you, it was quite entertaining. This is the first time I met the S.O.'s family and I was nervous about this 17-year-old girl because all I hear of teens these days is how terrible they are. This could not be farther from the truth with regards to S.O.'s little sister. She's the sweetest, cutest thing ever and I had a blast running with her. Fortunately, she talked the entire run and helped me forget that I was dying. After our run we played some trivial pursuit and enjoyed discussing her love of 90's music. Man, I'm old.
I hope you all are having great weeks so far. Congrats to those who raced the HITS Ocala tri series this weekend! And congrats to any other triathletes or runners who pounded it out too! I can't wait to read all of your race reports!