What a freakin' awesome weekend I had! Let's recap shall we?
Friday night I went out with my sister and had a fabulous dinner. We then headed over to the cute little island she and BIL live on where we had a few adult beverages. The BIL then met us out and we chatted and laughed and listened to a fun band. By the time we were ready to stumble home it was about 12:30 AM, which meant I wouldn't get to my place until about 1 AM. Eek!
I wasn't running on Saturday AM but I wasn't sleeping in either. I was to be the number one athletic supporter for P-Funk, the Lazy Runner (remember him from Red's stories?), and Shorty Shorts. The group was racing a 5K and I was cheering my face off. I had a slight hangover from one too many Abita's but it was all good. They all did great and guess what? BLOGGY MEET-UP! HOORAY!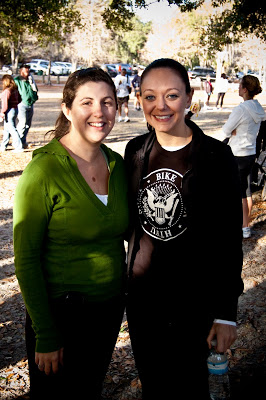 That's Jess from Cuban Running Crisis. She's so nice and was volunteering at the race. Swing by her blog and say hello! And yes, I was totally rockin' my Punk Rock Racing shirt. Woot!
Me and the rest of the crew had a little post 5K party at the playground where the race was held. It was the coolest playground ever!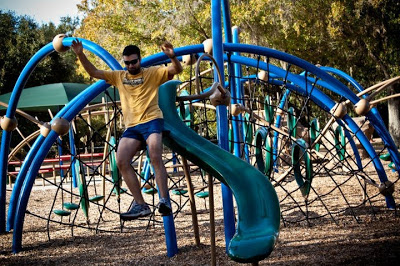 The Lazy Runner loved it!
After I left the 5K and took a much needed little nap, I headed over to AJ's bike shop to get my new addition. Cay-See met me to help me with my purchase and to make sure I got the right stuff. Cay-See is a phenomenal cyclist and she has so much knowledge that I was super glad she came along to help me. I had a deer in headlights look every time they asked me about what I wanted. I didn't even know what they were talking about half the time. Heh. I wound up getting this blue and white lovely…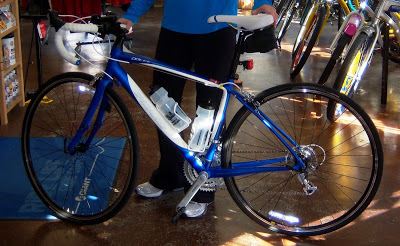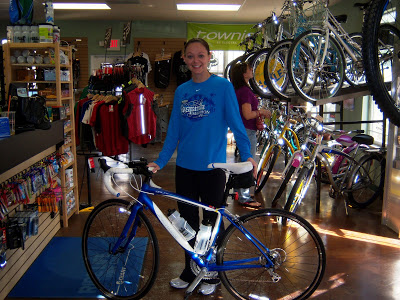 After a long, expensive shopping trip I took my new addition home and started to think up a name. At first I thought since it was blue it should be a boy, but then I thought, I wear blue all the time and I am certainly a not a dude. I then asked for suggestions and got a slew of aweome ones:Tackleberry
Costanza
Beau
Ligtning
FranciscoAll of the suggestions were awesome and some made me laugh out loud. But fellow blogger, Michael, at It's All About Pace, came up with the name I eventually chose: Dolly. I don't know if Michael knows how I feel about Dolly Parton, but the name was perfect. I love Dolly Parton! I think she's one sharp, tough lady. She proves that you can come from nothing and be a real something! And I'm definitely coming from nothing when it comes to cycling. I've got to be as tough as she is. After all, I got those dang clips and if I fall down as least I can pretend I have giant knockers to break my fall. Hahaha! Yesterday I got my long run in with Big Dave and Cute K. We had 16 on deck since it was a step down week and I was definitely happy for the small break in numbers. The three of us headed to a local trail and I was in charge of getting us there. There was a total fail on my end as I got us there at 6:30 AM and the park trail didn't open until 7 AM. Minor detail. We then just parked at a nearby gas station and ran a couple miles to wait. It was pretty funny. Well, now I know better for next time. Hope you all had great weekends! By the way, CONGRATS to all the Disney Marathon and Half Marathon finishers!!