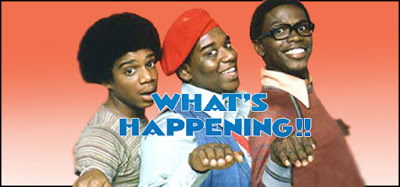 Oh Rerun.
Remember the show "What's Happening!!" It was like the poor man's "Good Times." It was fluff comedy and never veered into social commentary and made for the perfect after school syndication show.
Well, that has absolutely nothing to do with this post other than me telling you… What's Happening!! Get it? It's a sad state of affairs when that is my opening. Sorry. (As a side note, the show actually had two exclamation points in the title. I find that funny. Because I'm a grammar nerd.)
Ok so back to What's Happening!!
In between the Brooklyn Half and my
next half on Sunday
, I've been running and swimming and strength training.
Coach Jon
likes to keep us sharp in between races so while there is a bit of a taper it's not a full on sofa-fest. I actually like it because I get weird ghost pains during taper. This is quelled by continuing to get in some workouts.
On the swimming front I've got my annual master's swim meet on Saturday. I've signed up for the 200 free, 100 free, and 50 free. I haven't been swimming other strokes that much, so I don't really want to race them. If a relay needs a random breaststoker I may hop in though. I don't feel that my swim fitness is great right now so there's no telling where my times will be. Regardless, I always look forward to this event and ogling college boys. I'm using this meet as the jump off to really hunker down for training for the Frogman in January.
Strength training has been light due to my racing but I do feel that it's helped a lot by way of staving off injury. I haven't been hurt in a while and knock on wood, it will remain that way. I did decide that I needed to add in a mini-strength session between coached sessions because my system is getting too shocked when I go on Tuesdays and Thursdays. My body forgets about those muscles and then WHAM! I'm sore as all get out. Hence, the mini-sessions that I'm doing by myself on Mondays. It's basically a little 20-30 minute circuit using body weight.
On the non-athletic tip, I co-hosted
Meghan's (my ironman training buddy) baby shower
last weekend and I'm pretty amazing at guacamole and chicken salad and crudités. Thank goodness for co-hosts who have badass craft and decorating ability. I'm a walking Pinterest Fail in that department. The shower went great and I cannot wait to meet Baby C!
And that's about it. So…..What's Happening!! with you?