I think I swim maybe one meet a year and I always have so much fun that I always want to do more. Swim meets are super low key. I never feel that pre race nervous insanity that has been known to muck me up before other race types. They tend to start at the late, late hour of 9 AM and there's no packet pick up or bike gear set up. It's just a very chill type event in comparison to marathons and triathlons. And, to be extremely honest, since I don't ever feel like I'm going to place super well, I feel put way less pressure on myself. As I've said before, I am a very good triathlon swimmer, but as a stand alone swimmer I'm nowhere near the fasties. I swam in high school so I am comfortable in the water, but I didn't start swimming until I was 14/15. That's like old lady age in the swim world! But it does help me out in triathlon.
I do love swimming and the swim is where it's at! Want to know just how fast you can swim a 50 or a 100? The swim meet is your answer. And trust me, these events are tough. Sure you are only swimming for a few minutes, but you are swimming ALL OUT. Think of racing on the track. It's that level of exertion.
The meet was from Friday to Sunday, but I chose to swim only two events on Saturday. I went into the it not feeling very sure about where my swim fitness was. I have been swimming here and there, but not nearly enough. Of course, this is changing now that run season is mostly over here in Florida. It was 80 degrees last weekend.
I decided since I didn't feel super in swim shape that I'd swim the 500 and the 200. Wait. What?
Hear me out. I didn't want to do sprints as I knew they were going to hurt – a lot, so I chose the longer stuff as I felt I could control the speed a bit better. This  seems counterintuitive, but that's how my brain worked when I registered. When you register for a swim meet, you have to put in what you think your times will be. These can either be based off past times or in my current state, total guesses. So, being the discombobulated person that I am, I put down an expected time of 8:55 for the 500 and 3:05 for the 200. For some reason, I was thinking more of my open water and practice times and I guess that's why I thought I'd be at those paces. These are about 1:47/100 yards and 1:32/100 yards respectively.
The first event of the day was the 500. It was a mixed event, meaning men and women swam with each other in the heats. I was in heat three so I had some time to warm up. One of the best things about swim meets, is that the ages tend to skew toward an older crowd, at least in my area (Hi, Florida). I love seeing people in their 50's, 60's, 70's, and yes, 80's, completely smashing it. I'm in awe of how fast these people are. It's pretty awesome.
Anyway, back to my 500. It was my turn on the blocks and I didn't practice a start and just sorta hoped I'd get it right. The goggles coming off or partially off is always a fear. You'd think I'd have that nailed by now, but I get rusty and I swear the blocks get higher every year. Ha! I got up on those suckers though and hear the beeps and off I went.
I managed to get a half goggle of water on my left eye. Well, poop. No sense in fixing it, I just swam on while my poor left eye was continually chlorine washed.
I went out a bit hot on the first 50. I tried not to, but I was all race adrenaline-d up. I managed to pull it back a bit and tried to cruise. The water in my left goggle sloshed around but I didn't want to fix it. I just kept swimming. I didn't feel nearly as tired as I expected and as I saw the counter board dip into the water before I hit my flip turn, I marveled at how good I felt. I must have had a bit more swim fitness that I thought. I attempted to really pick it up the last 50 so that I didn't have a complete positive split swim. It still was.
I hit the timing pad and popped up to see a 7:38.94 (1:32/100 yards) on the clock. Hot damn! I was much faster than I had predicted and I was really excited about it. I'll take that time – in any fitness! I definitely want to do this event again with a bit more time in the pool.
After the 500 I had lots of time to chill out and enjoy my KLR/CAM teammates. The one downside to swim meets is the waiting in between events. It can take a very long time. It's usually when all the swimmers chitchat, eat snacks, and then warm up again pre-event. I was a tad more nervous for that 200 because, to me, the 200 is the 10K of swimming. And you all know how much I love the 10K. It's not long enough to groove, and it's not short enough to go all out. It's just a steady burn.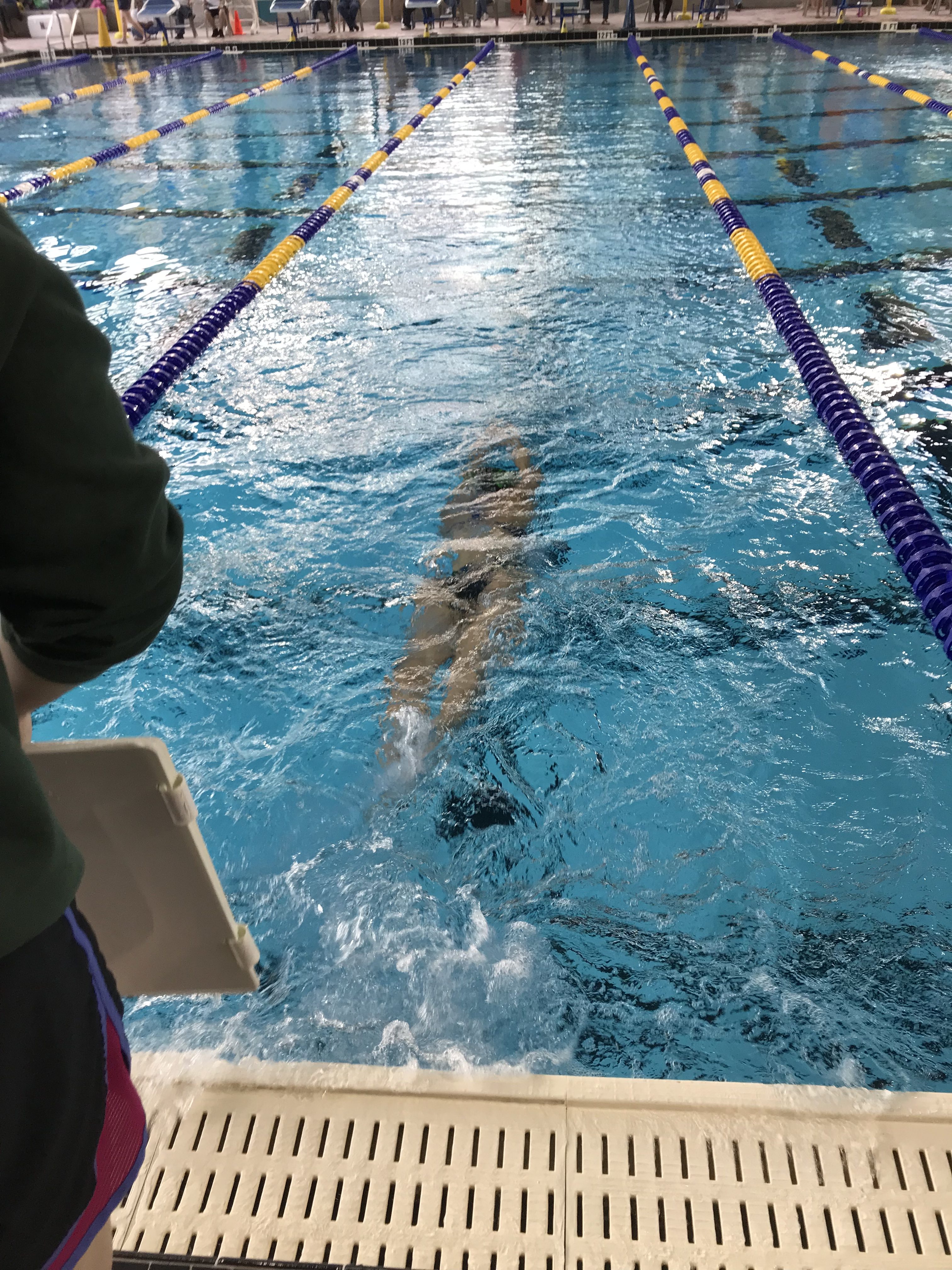 I got some good pre 200 coaching from a friend who swims like a fish. She told me to swim the first 50 feeling good, the second 50 focus on pull, the third 50 focus on kick, and the last 50 FAST. It really helped. I wound up swimming a 2:50 (1:27/100 yards). And that is a new swim meet 200 PR for me. I beat my time from last year by 4 seconds. Hooray!
All in all, I had a great day at the meet. I'm looking to do more but not sure I can fit them into my race calendar this year.
As always, thanks for reading. Have a great weekend!